Great American Horse Drive 2021 has been cancelled. We are looking forward to 2022.
Here is a schedule for the Great American Horse Drive:
Tuesday: Arrive at Sombrero Ranch between 12pm to 3pm. Orientation begins at 4pm with introductions, meet your group leaders, and lodging assignments. We will have a cowboy dinner and campfire entertainment.
Wednesday: Introduction to your assigned horses and gear. Morning horseback ride, getting to know your horse and the Colorado terrain. Lunch. Afternoon horseback ride. Dinner followed by roping lessons, games and a campfire.
Thursday: Nature trail ride to the North side of the ranch, be sure to bring your camera. Flag ceremony and local cowboy history. Information provided for events available for Friday. Cookout dinner following campfire and cowboy entertainment.
Friday: Horse logic clinic followed by a morning ride. Lunch. Break-out sessions with plenty of options including introduction to back-country packing, types of saddles and gear, farriers and shoeing, or free time to hike, go to town, or take a nap. Afternoon charity poker ride and dinner. Campfire and early bedtime to prepare for tomorrow!
Saturday: Early breakfast, saddle horses and load the buses. The horse drive begins! This day you will ride approximately thirty miles and will not return to the ranch until dinner time. Sack lunches will be eaten on the trail. Return to the ranch for a wholesome dinner and a good night's sleep.
Sunday: Early breakfast, saddle horses and load the buses. Final leg of the horse drive, approximately twenty-eight miles, including pushing the herd through the quaint town of Maybell, Colorado. Sack lunch on the trail. Horses will be pushed the remainder of the way up the highway to the ranch headquarters. Buckle ceremony and dinner followed by final campfire stories.
*All events are subject to change due to weather. The Saturday and Sunday horse drive will proceed despite most weather conditions.
RIDING ABILITY SCALE


BEGINNER: A rider with little or no experience.

NOVICE: A rider who is comfortable and in control at a walk and/or trot but has limited experience at an extended trot and/or canter.

INTERMEDIATE: A rider who is confident and in control in all gaits, including a posting trot, canter and gallop, but does not ride regularly.

STRONG INTERMEDIATE: An intermediate rider who is currently riding regularly, can post a long trot for an extended time period, and is comfortable riding cross-country terrain for at least 6 hours per day.

ADVANCED: All the above, plus the ability to handle a spirited horse on the open range.
*PLEASE READ CAREFULLY*
Horse drives are similar to cattle drives with one major difference--- SPEED! You will drive hundreds of horses for a total of 62 miles in the course of two days. We allow the horse herd to lead and we follow the pace they set. This means that you need to be COMFORTABLE in a trot or gallop. It is not enough to simply tolerate this pace intermittently. We do not provide riding instruction; rather, we provide riding tips and guidance as they relate to herd movement and drive strategy.
ENVIRONMENT
Colorado has a beautiful, high-altitude, dry climate with no set weather patterns. We have had years where the sun beats down and it reaches 80-90 degrees during the drive, while other years have had snow and frigid temperatures, and even years with wind, rain and hail. You need to prepare for any of these conditions, as the horses do not stop for the rain! The terrain over which you will be riding consists of various sections of sagebrush hills; uneven, rural dirt-roads; and asphalt highways.
RIDING ABILITY
As previously stated, the Great American Horse Drive is not geared for the beginner rider or for individuals who may have health issues. Seasoned horseback riders with cross-country experience will be better prepared, physically and mentally, for this adventure. Riding requires that you have control of your upper body, good strength in your legs, and the ability to balance while on the horse. If you do not have control of your body, you are at risk of falling off the horse or injuring the horse by rocking around on his back. Horses, much like people, try to avoid situations leading to discomfort, and they will respond to protect themselves if they are in pain. Please see the above riding experience scale to evaluate your ability level.
PHYSICAL CONDITION
Those who are in above-average physical and mental condition are at an advantage when it comes to keeping up on the Great American Horse Drive. However, it takes more than pure athletic ability to ride the drive successfully. It is even more important that you are conditioned for this type of riding. We highly suggest doing exercises that enhance your riding muscles and increase your inner core strength prior to attending the drive. Individuals who have recently had knee, back, hip or heart surgeries often have difficulties completing this long, physical ride.
LIVING QUARTERS
There is no additional cost for accommodations and clients are welcome to stay with us at the ranch or head to town to rent a hotel or room for the week. Included in the horse drive cost are accommodations onsite at the ranch, but guests are welcome to head to town to rent a hotel room if they prefer. It is important to note that our living quarters are true western bunkhouses in a rustic ranch setting. Each room has a minimum of two beds/bunks and as many as six. Please expect to share your room with at least one other person. There are common bathrooms for the bunkhouses with showers, sinks, and toilets. The ranch is located 13 miles outside of Craig, so we have limited cell phone service and no wireless internet. Be aware that you may need to go into town to make phones calls. This could also be a great opportunity to unplug, disconnect, and truly embrace the cowboy lifestyle!
MEALS
Sombrero Ranches has a full time cook, and we provide three meals a day for our family and volunteers. Guests are welcome to join us for meals at no additional cost. The serving schedule is posted along with a menu of meals for the day. We serve ranch style, family meals which consist of meat, potatoes, vegetables, salad, and sometimes dessert! Due to so many guests and staff, we are unable to accommodate special dietary needs.
CANCELLATION POLICY
We understand that life gets busy, in the event you need to cancel your reservation we offer a prorated cancellation policy: If the cancellation is 150 days prior to the event, 90% of your deposit will be refunded. If the cancellation is 120 days, prior to the event, 50% of your deposit will be refunded. If the cancellation is 60 days, prior to the event, your deposited will be forfeited. Special considerations will be given for medical or family emergencies, please call our main office at 303-442-0258.
HOW DO I SIGN UP FOR THE HORSE DRIVE?
Each year, guests are anxious to attend the drive and available spots on this "ride of a lifetime" disappear quickly! As such, we highly encourage you to reserve your spot promptly. The Great American Horse drive is an authentic six-day horseback adventure, with family-style dining and complimentary bunkhouse accommodations at the ranch. The "first-timer" cost is $2500.00, and a deposit, equal to half the total price, is required for all guests to hold your position. The full amount is due by April 1st.
Please fill out this application and send it into our office by mail or email.  Horse Drive Application
We hope you can join us for a one-of-a-kind adventure, and look forward to sharing our way of life with you!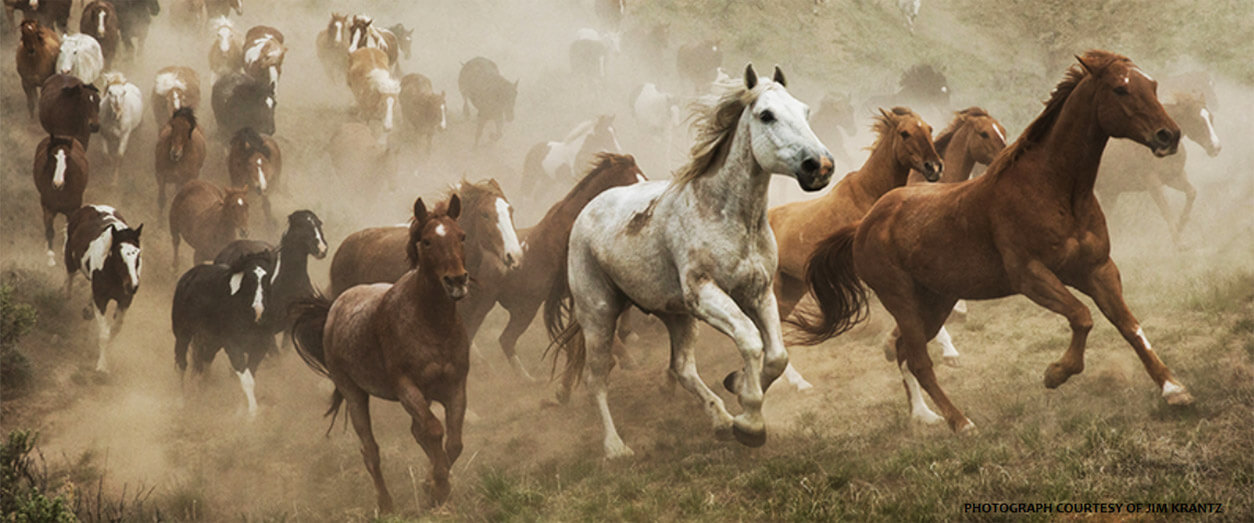 For more information please contact: [email protected]
Sombrero Ranches, Inc.
(Business Office Only)
911 Kimbark Street • Longmont, CO 80501
(303) 442-0258(303) 442-0258