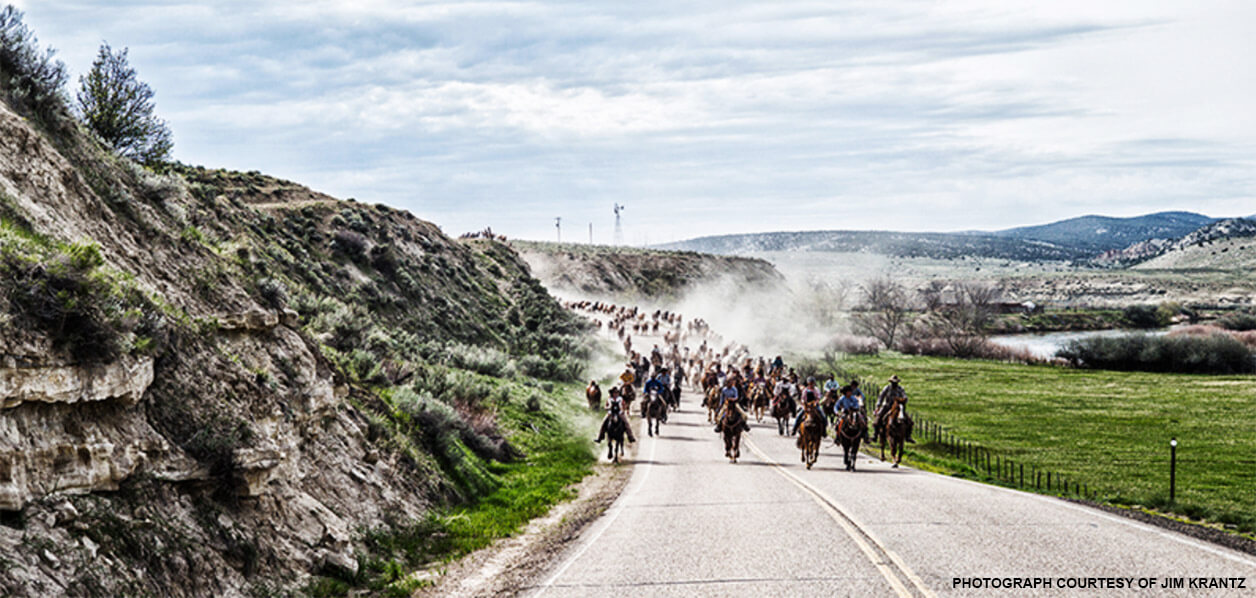 SOMBRERO RANCHES, INC./COLORADO HORSES, INC.,
HAS BEEN IN MULTIPLE COMMERCIAL PRODUCTIONS
Western Horseman
Frontier Magazine
Lydia's Style Magazine
Craig Daily Press
Sunday Reporter
The Furrow
Daily Times Call
Paint Horse Journal
Denver Post
Empire Magazine
Appaloosa Journal
Saturday Northwest
Colorado Critters
Successful Farming
Lefthand Valley Courier
Cowboys & Indians
Horse & Rider
Steamboat Magazine
The Fence Post
Return to Lonesome Dove
Centennial
Lightening Jack
Conagher
Dumb and Dumber
Comanche Moon
Cowboys & Aliens
The Lone Ranger
A Million Ways to Die In the West
GQ Magazine
Marlboro
Kerr McGee Gas Company
Colorado Saddlery
Wrangler
Ford Motor Company
KIA
Copenhagen U.S. Tobacco Company
People Magazine
Avenging Angels
And Many More On The Way!

FREQUENTLY ASKED QUESTIONS
Summer Horse
Do I have to shoe my horses in the summer?
Yes, you are responsible for proper hoof-care throughout the term of your rental.
What do I do if my horse needs veterinary care?
Renters are responsible for paying for veterinary care throughout the term of your rental. Please call the main office at (303) 442-0258 or our horse manager, who's number will be provided upon completion of the contract.
How do I return my horses?
You need to call our main office at (303) 442-0258 ahead of time to schedule a pick-up date.
How do I return my rental horses if I am out of state?
You need to call our main office at (303) 442-0258 ahead of time to schedule a pick-up date. You also need to have current health papers, provided by your local veterinarian, no older than thirty days from the pickup date. Renters are responsible for the cost of return health papers.
Am I responsible for any injury to horse or damage to equipment during my lease term?
Yes. Injury or death to horses results in a fine starting at $600.00 to full replacement value of the horse at $3000.00. Equipment fine starts at $25.00 for a halter, $40.00 for blankets and bridles, and $800 for a saddle.
Can I extend my summer lease into the fall season?
Typically no, but this is taken on a case-by-case basis. Most of the horses will be needed to fulfill other contracts during hunting season.
Can I use my own equipment/saddle on my lease horse?
This is also taken on a case-by-case basis. We need to make sure your equipment will fit the horse properly to reduce the risk of saddle sores and soring the horse.
Will horses load in a two-horse trailer for transporting?
We have not trained our horses to load in a two-horse or smaller trailer, we recommend a four-horse or stock type trailer.
Hunting Horses
How long can I lease a horse for?
We only offer single season rentals, unless you have a current outfitter's license. With your single season rental, you may have your horse for up to ten days for rifle seasons.
What do I do when I am done with my rental horses?
Your contract is assigned a horse camp, which is provided on the top of the page. You need to call your designated horse camp to schedule a pick-up time. All pick-ups MUST meet at the same location as the drop-off.
How long will it take for my horses to arrive or be picked up?
Colorado boasts on the of most treacherous landscape and trying weather of any other state, as such we provide renters a twelve-hour time window of when your horse will arrive or be picked up. We understand the inconvenience this could lend, and as always, we attempt to making our deliveries and pick-ups as quickly as possible. Please be understanding and patient! A bad day hunting is still better than being at work!
Why can't I have my horses before 11 am?
Due to the high volume of hunting horse rentals, it is impossible for us to gather, saddle, load, and drive to your location before 11 am. Thankfully our employees work incredibly hard all season long to provide you with the best service we can. If you need your horses before 11 am, please plan on arriving a day early and requesting your horses be delivered the day before.
What if my horse throws a shoe during my rental?
A barefoot horse walking on hard rocky trails will bruise their foot very easily. Call your assigned horse camp on the contract and arrange for an exchange, or for the shoe to be replaced.
What do I do if I have an emergency and need to return my horses early?
If it is a life-threatening emergency, call 911. Then, call your designated horse-camp and arrange for the horses to be picked up.
Am I able to leave my horses at a designated spot for Sombrero to pick up when I have completed my hunt?
DO NOT LEAVE YOUR HORSES! Sometimes locations of designated spots get lost in translation, and horses risk getting left in locations for long periods of time before being found. Be patient, we are on our way to get your horses from you, then you can leave.
Our staff will transport you and your hunting party and all your gear to one of our established drop camp locations, where we drop you off and return, upon your request, to pack you out at the end of your stay. All four drop camps are in Game Management Unit 12 of the Routt National Forest.
What is a game management unit GMU?
GMUs are used to allocate game management and hunting locations. Each year, only a designated number of hunting tags are released per GMU, this prevents over-hunting in specific areas.
How do I apply for a hunting license?
Horse Drive
What kind of bedding should I bring?
We recommend a sleeping bag and a comfortable pillow. You are also welcome to bring sheets and blankets, our mattresses are anywhere from a twin size to queen size.
What kind of clothes should I pack?
The only thing you can expect with Colorado weather is for it to be unpredictable. Bring cold weather clothes including a waterproof jacket, gloves, stocking cap, long-johns, wool socks and any other cold weather item. In warm or cold weather, we recommend wearing a long-sleeve, collared, button-up shirt; at the high altitudes of Colorado, and extended periods of time in the sunshine, getting a sunburn is hardly unavoidable. We also recommend, to protect you from the elements, a cowboy hat with a good brim for sun protection, chaps or leather leggings to protect your legs from saddle sores, leather gloves to prevent sunburn, we highly encourage clean socks, and multiple pairs of underwear!
What should I expect for accommodations?
When you are here, we treat you like family, this means, everyone sleeps in bunk houses. Our Horse Drive Coordinator does an excellent job pairing roommates and assigning housing for the week. You should expect bunk beds, with the double mattress to sleep on, and the top bunk for storing your things. A few guests in the "Red Roof Inn," will have a private room like a hotel with a sink, shower and two queen size beds.
What if I have a specialized diet?
Unfortunately, due to the large number of guests visiting the ranch, our cooks are not able to accommodate specialized diets.
What kind of food will be served?
With hard work comes hearty food. The cowboy way is meat and potatoes, and luckily, we add in a few of the fluffy greens as well. Each meal, you should expect to have these food groups, as well as a delicious dessert!
Do we camp out with the horses at the halfway point?
No, and you will thank us later! We bring you back to the ranch that night, feed you a big supper, and you can fall into bed for peaceful rest!
How many miles do we ride?
During the drive you will ride sixty miles in two days. The other three days at the ranch, you will ride between fifteen and twenty miles. Making the total seventy-five to eighty miles in the five days you are with us!
Can I bring my own horse?
No, and here's why… we will be traveling over seventy miles in just five short days, in challenging terrain, with unfamiliar horses, and in a unique situation. While you are with us, you will be assigned two different horses, which you will alternate between as one horse cannot complete the whole week carrying a rider. Your horse will likely not be acclimated to the terrain we encounter, watching for holes, high altitude, deep sand, and rattle-snakes. You will also be surrounded by five hundred or more unfamiliar horses, with a strict pecking order, thus requiring special accommodations for your horse, which we are unable to provide. Finally, our horses are a unique type of horse, as they are perfectly comfortable in large herd situation, and remain calm under the pressure of carrying a rider near a loose herd. We hope you enjoy the chance to ride a different horse, and the learning opportunity that comes with it!
Can I bring my own saddle?
Yes of course! Though please understand, we will have to make sure it will fit the horse you are riding, so horse and rider can ride proudly to the finish line!
Absolutely, but please make sure you get a return label to mail your saddle back home!
Is There is Weight Limit to Ride Horses?
We have horses for all weights, including larger horses for larger people. Though, it is generally recommended that persons over three hundred and fifty pounds do not ride. Each guest is the best judge of his or her abilities to stay balanced in the saddle and on the horse.
Are gratuities appropriate?
Although completely optional, our guides appreciate a tip in recognition of great service.
Where are you located, and do you provide transportation?
We are located thirteen miles north of Craig, Colorado. The closest airport to our ranch is the Yampa Valley Regional Airport, in Hayden, Colorado. We do provide rides to and from the airport and can schedule arrivals once an application is filled out.
Address of the airport 11005 Co Rd 51A, Hayden, CO 81639
Will we ride if it is raining? What about snowing?
We ride rain or shine! Regardless of the weather, we must get the work done. Please bring plenty of warm and water-proof clothing despite the weather forecast!
Is there an age limit for the drive?
We love families at Sombrero, as we are a family business! Although, due to the difficult nature of the drive, children must be fourteen years of age to attend and have a parent or legal guardian in attendance with them. The oldest guest we have had is seventy-six, but this is a matter of your physical fitness and determination!

HORSE FEEDING AND CARE RECOMMENDATIONS
Planning a Better Trip for You and Your Horse!
FEEDING
A horse requires at least twenty-five (25) pounds of quality hay per day. As a company policy we also recommend that you feed six (6) pounds of grain per day. This ensure the horses are full and they have enough energy to last the day. When feeding, each horse will need their own separate serving of hay, to prevent fighting, and possible injury. Bigger horses require more feed. If you have a large draft size animal, they need at minimum thirty (30) pounds of quality hay.
Important things to know:

BLM, Wilderness, and National Forest Service all require certified weed-free hay.
Wilderness lands DO NOT allow bales of hay to be brought in, only cubed feed.
USE CAUTION WITH PELLETS AND CUBED FEED. WE DO NOT RECOMMEND PELLETIZED FEED.
FEEDING CUBED AND PELLETIZED FEED
Cubed and pelleted feeds can be used, if they are soaked in water, for at least an hour, prior to feeding. This does require the use of a bucket, or water holding device, as well as easy access to water. To know how much to feed each horse, read manufacturer's instructions on packaging. The average horse weighs 1000 pounds with draft size horses reaching 1400 pounds. Horses must be fed twice a day, and cubes or pellets must be rehydrated prior to every feeding.
WATERING
A horse MUST be watered at least three (3) times per day, and more often if you are using them. Horses refusing to drink should be monitored carefully, and given more opportunities to drink. The key to keeping your horses healthy during your trip to ensure they have access to clean water, often.
SADDLING
It is important to saddle your horse properly not only for the safety of the horse, but your safety as well.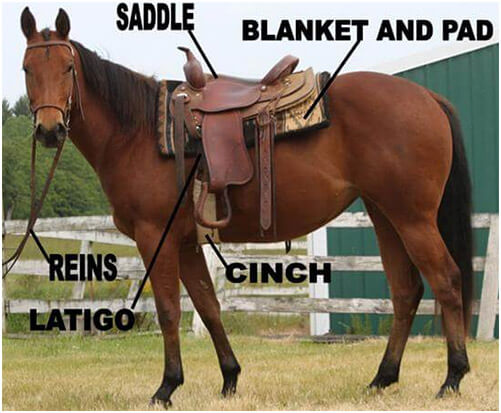 First, the horse should be assessed for how dirty he/she is; leaving mud, leaves or foreign objects on their backs while they are saddled can lead to soring and even misbehavior! Once their backs have been cleaned, check the blanket and pad to ensure they have not fallen in the dirt. Place the blanket closest to the horse's skin and the thicker pad on top. The front fold of the blanket should be in line with the horse's shoulder. The pad and blanket have a natural tendency to move backwards throughout the day, so be sure to keep an eye on it, and adjust as necessary.
Next, the saddle and cinch should be inspected for dirt, twigs, etc. that are stuck in cinches. The saddle should be placed just behind the front shoulder. The cinch should go under the horse's belly, from right to left, and attach on the left side (or driver's side). The cinch should sit just behind the front armpits of the horse, but not rub them.
The latigo should be tightened where is it comfortable, but not painful for the horse. A good way to measure if it is tight enough is by sliding your fingers between the horse's body and cinch. If you are still able to get your fingers between them, then it is suitable.
Bridling is not always the easiest task, but if you treat the horses gently, and avoid fighting them, you will find it is easier than you think. For a complete tutorial on how to properly bridle a horse, please follow this link: https://www.youtube.com/watch?v=yWTIxh9eURE

TO AVOID SADDLE SORES OR SORING
Please follow the guidelines below to help prevent soring your horse:
Do not over-pack, ride double, or ride and pack horses at the same time. Overworking horses will cause soring, lameness, and in some cases colic.
Use both the saddle pad and blanket provided for you during your rental. Be mindful that the equipment stays in the proper location throughout the day. More importantly ensure that your saddle is not rubbing on the horse's withers, armpits or back.
Proper adjustment of the cinch will reduce the risk of cinch soring. For guidance on the tightness of a cinch, see the section on saddling your horse. Balance your weight on the horse's back evenly. Ensure that your stirrups are the same length and you are centered in the horse's back.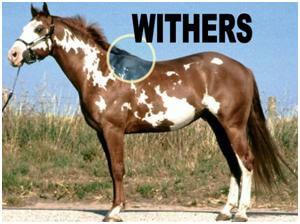 When using saddle panniers, carefully balance a load, proving it is even. Uneven loads will lean to once side, causing rubbing and soring.

PACKING HORSES, LOADING AND HAULING GEAR ON HORSEBACK
DO NOT PACK MORE THAN TWO HUNDRED (200) POUNDS PER HORSE.
This means, one hundred (100) pounds per side. When using panniers, make sure the saddle has been adjusted properly and both the pad and blanket are in the correct spot. Pack the panniers with the heaviest objects on the bottom, and fill the tops with the lightest objects.
DO NOT put sharp objects in the panniers, this includes, but not limited to: unsheathed knives and axes, antlers, and hanging forks. Should a horse accidently slip on a trail, sharp objects can puncture saddle panniers and injure the horse.
DO NOT pack an entire elk, deer, or antelope on a single horse at ANY time. A horse can carry two hind quarters OR two front quarters and back strap, at one time.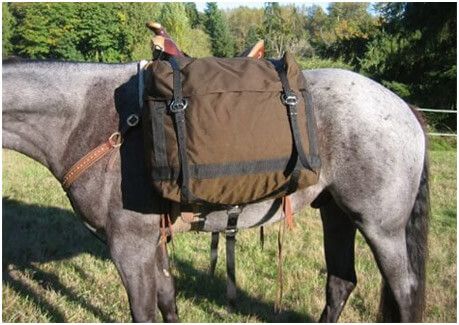 EVERY night, horses must be unsaddled and unbridled. Your horse may ONLY have a halter on at night, to ensure they receive optimal rest. Upon returning to camp, your horse must be watered promptly. Allow adequate time for the horse to drink to contentment. Some horses feel vulnerable drinking water in a new location, be patient, and allow them to have multiple attempts at water as they adapt to their surroundings. The next priority is ensuring horses get enough to eat. If you are feeding pelletized or cubed hay, it must have soaked in water at least an hour prior to feeding. Cubes, pellets, and hay should all be separated into multiple plies to prevent fighting. CAUTION SHOULD BE USED WHEN FEEDING PELLETS, AS THEY CAN CAUSE CHOKING.
EACH NIGHT
check your horse's back for hot spots, sores, or rub marks on their back, withers, and over their kidneys. If a horse has begun to develop any AREAS OF CONCERN, immediately discontinue use, as these can take weeks to heal.
CONTAINING HORSES AT NIGHT
The National Forest Service, BLM and Wilderness areas require the use of high-lines for tying horses. Information on this can be found in the "Back Country Horsemen of America Guidebook." When tying your horses, use a quick release, slip knot. This ensures if an incident happens you can easily release the horse from the tie. Tie your horse short enough that it is unable to step over the lead rope, or get tangled up with others, but long enough to be able to rest head and small movements.
We recommend that when feeding horses on the ground, lengthen their lead ropes until they are finished eating, then before evening shorten the lead ropes again.
DO NOT tie horses to fallen dead trees, that if spooked they could drag or move.
DO NOT tie horses under or to trees that could fall if pulled, or in strong winds.
DO NOT tie horses to vehicles, camping equipment such as a tent, the ground or any other unsecured, breakable, or dangerous objects.
TRAILERING


Our horses are not trained to load in straight load, or small trailers, such as two horse trailers. If you plan on picking up your horses, and hauling, please provide a larger stock trailer.

When unloading you horse, always untie them before opening the trailer door. Allow the horses to back off the trailer and take their time stepping down from the elevated deck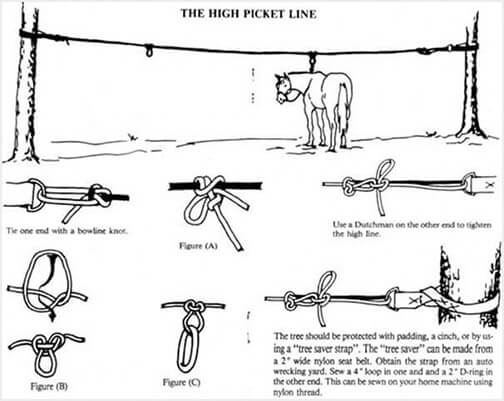 When loading the horses, do not use constant pressure when leading. It is a give and take relationship. Face them towards the trailer, give a small tug, then release. Do not fight them, few can win a tug-of-war against a 1,200-pound animal.
DO NOT leave a horse in the trailer over-night.
DO NOT travel for longer than eight hours, without unloading the horse, and giving them the chance to rest and eat.
GENERAL INFORMATION
Please take the time to get to know the rental horses that will be under your care by asking our staff any questions that you may have. The best time to do this is when your horses are dropped off, or if you come to pick them up.
EMERGENCY PLAN


IN CASE OF NATURAL DISASTER, PHYSICAL HARM, OR OTHER LIFE-THREATENING EMERGENCIES, call 911.

To arrange for return of your horses: Call the Sombrero phone number on your contract to notify a horse pick up is needed. Return horse to location that it was dropped off at. STAY with horse until Sombrero Ranches, Inc. arrives.

HOW TO RESERVE YOUR HORSES
To reserve your horses, we must receive a completed contract and deposit. Please download the hunting horse rental contract at: www.sombrerohorses.com/hunting-horse