While the deer, elk and antelope are plentiful, the rugged Colorado terrain offers a heightened challenge for hunters, one that can be made easier with the use of horses. Sombrero Ranches, Inc. has horses for rent during all big game hunting seasons in Colorado, within permitted areas. We carefully pick horses for you and your hunting party based on your riding experience, terrain you are hunting in, and the size of your group. We offer a one-time complimentary delivery service* within fifty miles of our nearest horse camp. For your convenience, we have horse camps scattered throughout Colorado, including: Big Gulch in Craig, Colorado, Steamboat, Stable on the White River, near Meeker, Colorado, Morapos Creek Corral Campground, Dotsero near Sweetwater, Colorado and Williams Fork. We have been in the business of renting horses since 1958, so you can depend on us to provide you with horses for a better, and more enjoyable hunting experience! We also offer overnight camping and hunting options, please see our Williams Fork Hunting Information.
*Please note we can only deliver to permitted regions. Please call our main office at (303) 442-0258(303) 442-0258 to confirm your hunting location is in an area we are permitted.
HUNTING HORSE RENTAL RATES (SUBJECT TO CHANGE WITHOUT NOTICE):
HUNTING HORSE RENTAL DATES ARE DEPENDENT UPON HUNTING SEASON
Per Horse
Horse Rental For a Single Season, up to 10 days
$700.00 + Deposit
HUNTING HORSE DEPOSIT:
One or Two Horse(s)
$500.00 total
Three or More Horse(s)
*Example: If customer is renting seven head of horses, the deposit will be $700.00.
$100.00 per horse*
Out of State Health Papers and Brand Inspection
***Renter must notify ten to fourteen days prior to delivery if the horses require out of state papers. Renter is also responsible for furnishing return health papers through their local veterinarian
$100.00***
MULTIPLE SEASON RENTAL RATES, AVAILABLE TO OUTFITTERS ONLY:


***Outfitters MUST Provide a Copy of Colorado Outfitter's License Prior to Rental***

Per Horse
All Season Rentals: Archery, Muzzleloading and Rifle Seasons
$1800.00 + Deposit

WHAT COMES WITH MY RENTAL?
All horses come with the tack necessary to ride western style: western saddle, bridle, halter and lead rope, pad, and blanket. We do NOT supply pack saddles, wide stirrups, rifle scabbards, saddle panniers, high-lines, breast collars, water buckets, feed buckets, horse brushes or any additional specialty items. These items are the responsibility of the RENTOR, should they be needed. Hay and grain are available for purchase, and will be brought upon delivery of your horses. If you purchase feed from an outside source, you MUST show proof of feed. NO refunds will be issued for any unused hay or grain.
FEED COSTS THROUGH SOMBRERO RANCHES, INC. (SUBJECT TO CHANGE WITHOUT NOTICE)
Certified, Weed Free Hay Bale (approx 50 lbs each)
$18 per bale*
Sweet-Mix Grain
$15 per bag*
*Feed delivery offered while supplies last
DELIVERY POLICY: No deliveries or pickups will be made the weekend of Labor Day
Sombrero Ranches, Inc. will deliver and pickup your horses one time, included in your rental fee. Additional delivery, pickup or exchanges will be charged and automatically withheld from your deposit. Please see our delivery locations and price list. We do NOT guarantee a delivery before 11:00 a.m., and should you require the horses earlier than 11 a.m., please plan to arrive the day before to receive your horses. If you pick up your horses, we offer more flexibility with timing, and we will schedule your pickup time with the submission of your contract. Please note that Sombrero Ranches, Inc. acknowledges that weather, travel, and horse related occurrences happen, and renters could wait up to twelve hours for pickup and delivery of rental horses.
All delivery locations are subject to change depending on weather conditions, and availability to get to location with a pickup and trailer.
—-We no longer deliver to Kremmling, Toponas, Dotsero, Gypsum, Sweetwater, Coffeepot, Grieves or Walden.—-
DEPOSIT POLICY:
Any refundable deposits will be mailed after the close of all hunting seasons, approximately the end of December. If you leave your horses unattended, you AUTOMATICALLY forfeit all deposit monies. You must be present at both delivery and pickup of your rental horses. Deposits will also be automatically forfeited for cancellations less than fifteen days prior to delivery date.
PAYMENT POLICY:
All contracts must be paid in full to the office, prior to delivery of horses or if you pick up horses.

For more information please contact: [email protected]
Sombrero Ranches, Inc. (Business Office Only)
911 Kimbark Street • Longmont, CO 80501
(303) 442-0258(303) 442-0258

HORSE FEEDING AND CARE RECOMMENDATIONS
Planning a Better Trip for You and Your Horse!
FEEDING
A horse requires at least thirty (30) pounds of quality hay per day. As a company policy we also recommend that you feed six (6) pounds of grain per day. This ensure the horses are full and they have enough energy to last the day. When feeding, each horse will need their own separate serving of hay, to prevent fighting, and possible injury. Bigger horses require more feed. If you have a large draft size animal, they need at minimum thirty-five (35) pounds of quality hay.
Important things to know:

BLM, Wilderness, and National Forest Service all require certified weed-free hay.
Wilderness lands DO NOT allow bales of hay to be brought in, only cubed feed.
USE CAUTION WITH PELLETS AND CUBED FEED. WE DO NOT RECOMMEND PELLETED FEED. CHOKING HAZARD.
FEEDING CUBED AND PELLETIZED FEED
Cubed and pelleted feeds can be used, if they are soaked in water, for at least an hour, prior to feeding. This does require the use of a bucket, or water holding device, as well as easy access to water. To know how much to feed each horse, read manufacturer's instructions on packaging. The average horse weighs 1000 pounds with draft size horses reaching 1400 pounds. Horses must be fed twice a day, and cubes or pellets must be rehydrated prior to every feeding.
WATERING
A horse MUST be watered at least three (3) times per day, and more often if you are using them. Horses refusing to drink should be monitored carefully and given more opportunities to drink. The key to keeping your horses healthy during your trip is to ensure they have access to clean water, often.
SADDLING
It is important to saddle your horse properly not only for the safety of the horse, but your safety as well.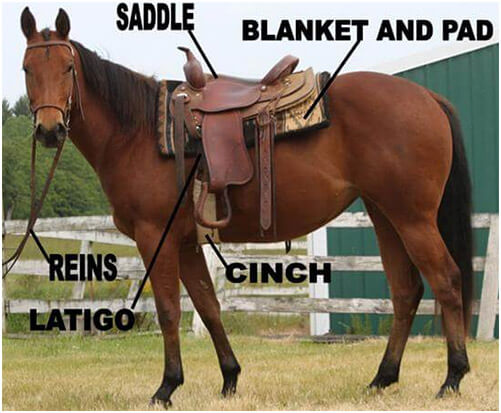 First, the horse should be assessed for how dirty he/she is; leaving mud, leaves or foreign objects on their backs while they are saddled can lead to soring and even misbehavior! Once their backs have been cleaned, check the blanket and pad to ensure they have not fallen in the dirt. Place the blanket closest to the horse's skin and the thicker pad on top. The front fold of the blanket should be in line with the horse's shoulder. The pad and blanket have a natural tendency to move backwards throughout the day, so be sure to keep an eye on it, and adjust as necessary.
Next, the saddle and cinch should be inspected for dirt, twigs, etc. that are stuck in cinches. The saddle should be placed just behind the front shoulder. The cinch should go under the horse's belly, from right to left, and attach on the left side (or driver's side). The cinch should sit just behind the front armpits of the horse, but not rub them.
The latigo should be tightened where is it comfortable, but not painful for the horse. A good way to measure if it is tight enough is by sliding your fingers between the horse's body and cinch. If you are still able to get your fingers between them, then it is suitable.
Bridling is not always the easiest task, but if you treat the horses gently, and avoid fighting them, you will find it is easier than you think. For a complete tutorial on how to properly bridle a horse, please follow this link: https://www.youtube.com/watch?v=yWTIxh9eURE

TO AVOID SADDLE SORES OR SORING
Please follow the guidelines below to help prevent soring your horse:
Do not over-pack, ride double, or ride and pack horses at the same time. Overworking horses will cause soring, lameness, and in some cases colic.
Use both the saddle pad and blanket provided for you during your rental. Be mindful that the equipment stays in the proper location throughout the day. More importantly ensure that your saddle is not rubbing on the horse's withers, armpits or back.
Proper adjustment of the cinch will reduce the risk of cinch soring. For guidance on the tightness of a cinch, see the section on saddling your horse. Balance your weight on the horse's back evenly. Ensure that your stirrups are the same length and you are centered in the horse's back.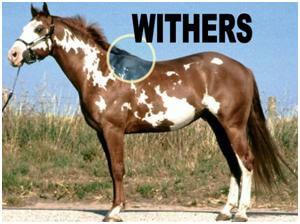 When using saddle panniers, carefully balance the load, to make sure it is even. Uneven loads will lean to one side, causing rubbing and soring.

PACKING HORSES, LOADING AND HAULING GEAR ON HORSEBACK
DO NOT PACK MORE THAN TWO HUNDRED (200) POUNDS PER HORSE.
This means, one hundred (100) pounds per side. When using panniers, make sure the saddle has been adjusted properly and both the pad and blanket are in the correct spot. Pack the panniers with the heaviest objects on the bottom, and fill the tops with the lightest objects.
DO NOT put sharp objects in the panniers, this includes, but not limited to: unsheathed knives and axes, antlers, and hanging forks. Should a horse accidentally slip on a trail, sharp objects can puncture saddle panniers and injure the horse.
DO NOT pack an entire elk, deer, or antelope on a single horse at ANY time. A horse can carry two hind quarters OR two front quarters and back strap, at one time.
Below is the proper packing and riding techniques permitted within the confines of the contract.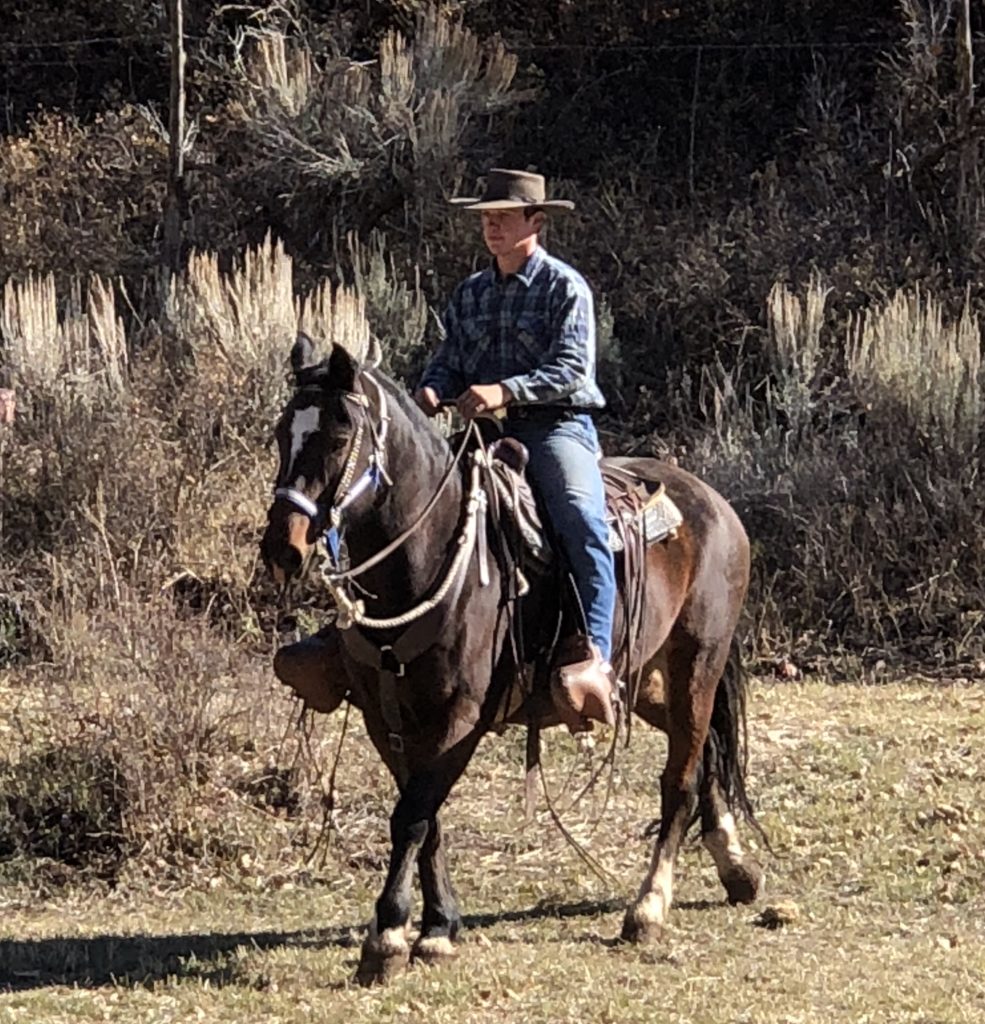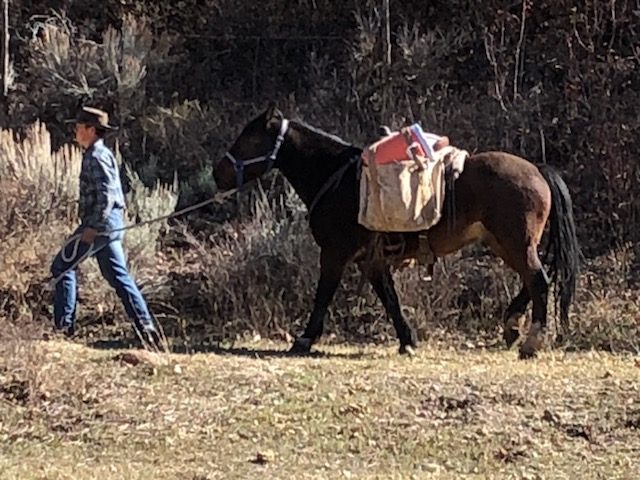 The photo below demonstrates an example of riding and packing at the same time, riding and packing at the same time is NOT PERMITTED. Renters found riding and packing at the same time will pay at minimum the cost of the rental deposit and will not be allowed to rent horses in the future.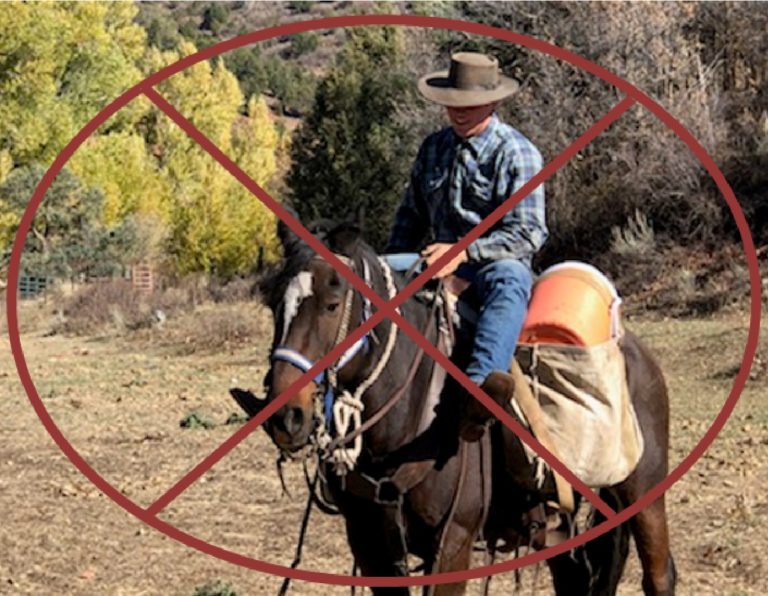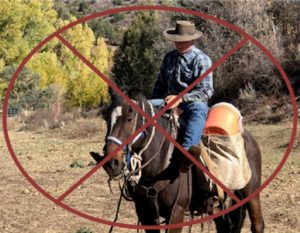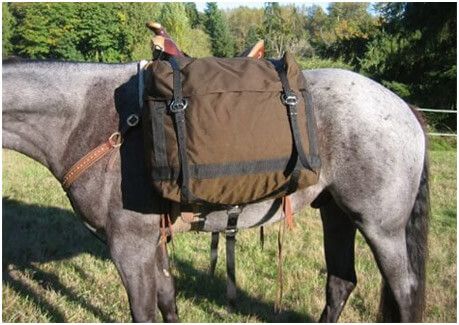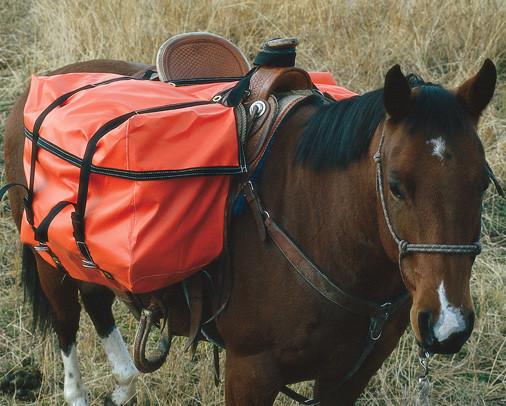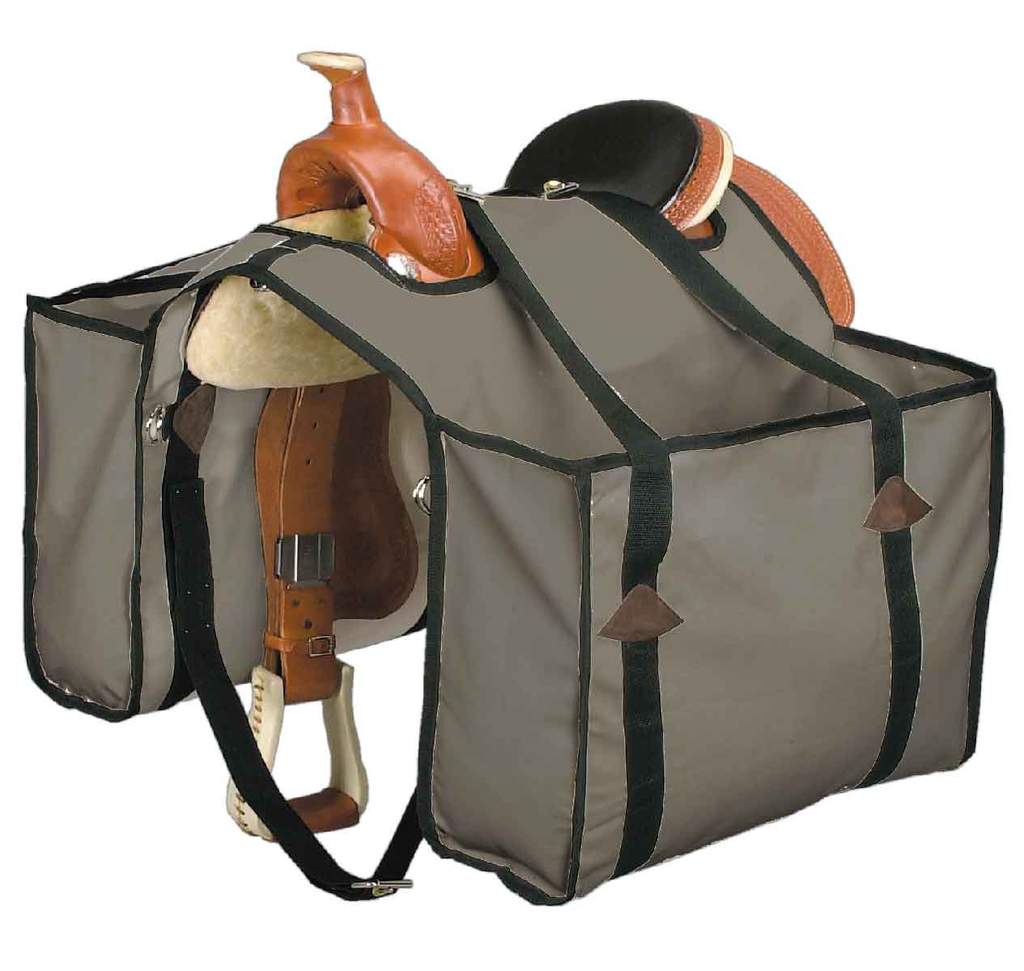 EVERY night, horses must be unsaddled and unbridled. Your horse may ONLY have a halter on at night, to ensure they receive optimal rest. Upon returning to camp, your horse must be watered promptly. Allow adequate time for the horse to drink to contentment. Some horses feel vulnerable drinking water in a new location, be patient, and allow them to have multiple attempts at water as they adapt to their surroundings. The next priority is ensuring horses get enough to eat. If you are feeding pelletized or cubed hay, it must have soaked in water at least an hour prior to feeding. Cubes, pellets, and hay should all be separated into multiple plies to prevent fighting.
CAUTION SHOULD BE USED WHEN FEEDING PELLETS, AS THEY CAN CAUSE CHOKING.
EACH NIGHT
Check your horse's back for hot spots, sores, or rub marks on their back, withers, and over their kidneys. If a horse has started to develop any AREAS OF CONCERN, immediately discontinue use, as these can take weeks to heal.
CONTAINING HORSES AT NIGHT
The National Forest Service, BLM and Wilderness areas require the use of high-lines for tying horses. Information on this can be found in the "Back Country Horsemen of America Guidebook." When tying your horses, use a quick release, slip knot. This ensures if an incident happens you can easily release the horse from the tie. Tie your horse short enough that it is unable to step over the lead rope, or get tangled up with others, but long enough to be able to rest head and small movements. Make sure the halter is secure on the horse's head, but not too tight that it will cause sores on the horse.
We recommend that when feeding horses on the ground, lengthen their lead ropes until they are finished eating, then shorten the lead ropes again.
DO NOT tie horses to fallen dead trees, that if spooked, they could drag or move.
DO NOT tie horses under or to trees that could fall if pulled, or in strong winds.
DO NOT tie horses to vehicles, camping equipment such as a tent, the ground or any other unsecured, breakable, or dangerous objects.
TRAILERING


Our horses are not trained to load in straight load, or small trailers, such as two horse trailers. If you plan on picking up your horses, and hauling, please provide a larger stock trailer.

When unloading you horse, always untie them before opening the trailer door. Allow the horses to back off the trailer and take their time stepping down from the elevated deck.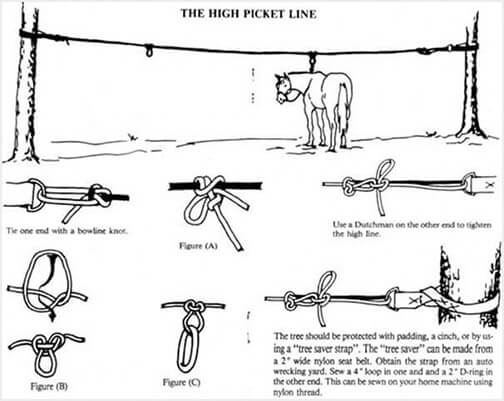 When loading the horses, do not use constant pressure when leading. It is a give and take relationship. Face them towards the trailer, give a small tug, then release. Do not fight them, few can win a tug-of-war against a 1,200-pound animal.
DO NOT leave a horse in the trailer over-night.
DO NOT travel for longer than eight hours, without unloading the horse, and giving them the chance to rest and eat.
GENERAL INFORMATION
Please take the time to get to know the rental horses that will be under your care by asking our staff any questions that you may have. The best time to do this is when your horses are dropped off, or if you come to pick them up.
EMERGENCY PLAN


IN CASE OF NATURAL DISASTER, PHYSICAL HARM, OR OTHER LIFE-THREATENING EMERGENCIES, call 911.

To arrange for return of your horses: Call the Sombrero phone number on your contract to notify a horse pick up is needed. Return horse to location that it was dropped off at. STAY with horse until Sombrero Ranches, Inc. arrives.

HOW TO RESERVE YOUR HORSES
To reserve your horses, we must receive a completed contract and deposit. Please download the hunting horse rental contract at:
www.sombrerohorses.com/faqs-forms/